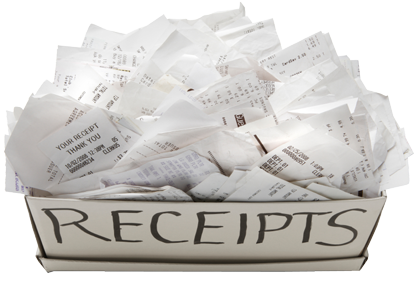 Consumers who keep a receipt after making a purchase will be rewarded, Minister of Finance Mr Phouphet Khamphounvong announced this week. Speaking at the Third Ordinary Session of the Seventh Legislature of the National Assembly on Monday, Mr Phouphet said the ministry would attempt to bolster government revenue by encouraging shoppers to ask for receipts. Shoppers would be motivated to do this by knowing that their receipt could earn them a reward.
"The objective of issuing receipts that have the potential to reward the customer is to encourage the general public and the purchasers of goods and services to demand receipts," Mr Phouphet said. The receipts would also be used as a source of reference for tax officials when calculating the amount of tax owed by a shop. Tax officials have trouble making an accurate assessment of the tax owed by a shop because they have no basis for knowing the exact amount of goods or services sold. Many shops in Laos do not issue receipts, and shoppers do not ask for one because they consider it unnecessary.
Tax officials make an estimate of the value of goods or services sold, as a basis for calculating the tax owed by a business. However, this enables both officials and businesses to negotiate the amount of tax to be paid, which leads to corruption and loss of state revenue. Mr Phouphet said that once consumers know that they might earn a reward from the receipts they collect, they would demand a receipt every time they made a purchase. The existence of receipts would then give tax officials a more accurate basis for calculating the tax owed by a business.
He said that not all receipt holders would be eligible to win a reward as this would be restricted to official receipts issued by the Ministry of Finance. The ministry would print official receipts and distribute them to shops around the country so they can give them to their customers. Mr Phouphet did not give details about how the ministry would reward receipt holders. However, it is possible that a lucky draw would be held to randomly select reward winners, just as many banks do.
Banks issue cards to account holders and hold lucky draws on a regular basis to give away prizes. This has proved to be an effective promotional ploy and has led many people to open accounts at these banks so they have a chance of winning a prize. Mr Phouphet said the ministry would also inspect revenue sources and improve the systems used to make it easier for people to pay their taxes.
The government is seeking to fill its coffers because it will need more money to pay officials a higher salary and provide additional living allowances next fiscal year. Under its budget for 2012/2013, the government is targeting revenue of 19,543 billion kip (US$2.4 billion) and expenditure of 23,385 billion kip (US$2.9 billion), resulting in a budget deficit of 3,842 billion kip (US$480 million), representing 4.76 percent of GDP.

Vientiane Times
June 29, 2012