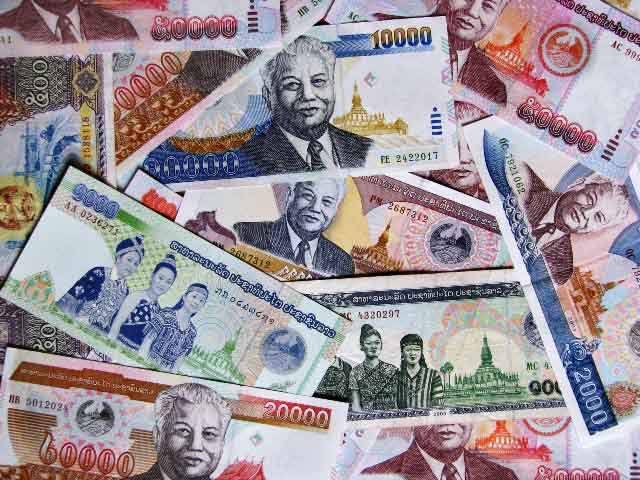 People are more confident about building their savings in Lao kip now that the value of the national currency has been stable for the past few years. According to an annual report from the Bank of the Lao PDR, the value of kip deposits at commercial banks in Laos reached 9,869 billion kip in December 2011, accounting for about 45 percent of total deposits. The rest of the money deposited was in foreign currencies.
The bank's 2011 report revealed that its total deposits amounted to 22,125 billion kip as of the end of December, up by about 18 percent on the previous year. The value of deposits accounted for 34 percent of total GDP in the same period. Kip deposits at commercial banks soared to about 48 percent in 2010, up from 34 percent in 2009, before dropping to 42 percent in May last year.
The increasing amount of kip being deposited at commercial banks is a strong reflection of public confidence in the stability of the kip. Its value has strengthened from 10,000 kip to the US dollar in 2005 to about 8,000 kip per US dollar at present. Deputy Director General of the central bank's Monetary Policy Department, Mr Phetsathaphone Keovong-vichith, yesterday welcomed the growing public confidence in the kip. He said the increasing circulation of kip in Laos helped the central bank to manage its monetary policy more effectively.
"Partial dollarisation makes if difficult for the bank to manage monetary policy," he told Vientiane Times yesterday. He said the stability of the kip was maintained because it was kept within a 5 percent range of change in value against foreign currencies. Last year the kip rose 2.9 percent in value against the US dollar while dropping 1.3 percent against the Thai baht.
Mr Phetsathaphone said the central bank eased restrictions on currency exchange in the middle of last year. It now allows kip to be exchanged in unlimited amounts, to further stimulate public confidence in the currency. "We began running the test project in the middle of last year; we have not set a timeframe for its completion," he said. The Bank of the Lao PDR closely monitors currency exchange and has observed that there has been no rush to exchange kip.
Previously, one person could only change amounts less than 20 million kip, which was a problem for people who needed baht to go shopping in Thailand. Many commercial banks allow their ATM cardholders to withdraw their money in baht when in Thailand.
Mr Phetsathaphone said people were also depositing kip because commercial banks were offering better deposit interest rates compared to the baht and US dollar. The Bank of the Lao PDR is continuing to run campaigns to promote the use of the kip, to encourage more people to use the national currency, he added.
Vientiane Times
July 11, 2012