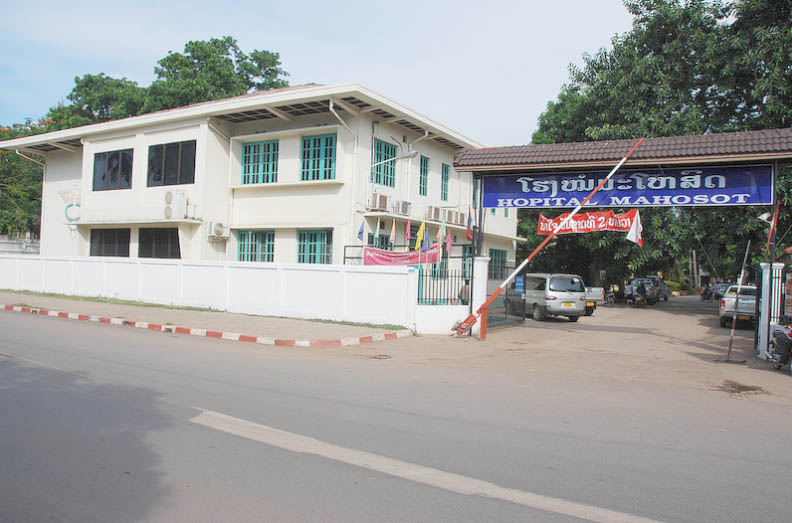 Health officials are gearing up to upgrade Mahosot Hospital to turn it into a modern facility, offering improved medical services to members of the public. Deputy Director of the hospital, Dr Aphone Visathep, told the Vientiane Times yesterday that the improvements at the hospital were at the behest of the government's desire to transform it to a modern facility by next year. "We aim to upgrade the hospital facility to an international standard," Dr Aphone said. It is expected the hospital will be financially self sufficient and won't need government funding. One major aim is to attract doctors and nurses to work at the hospital by providing better conditions, higher salaries and overseas training courses. The objective of the hospital's upgrade is to reduce the number of people seeking treatment in neighbouring countries.
Doctors expect that the services provided will be of a similar level to those at private hospitals in neighbouring countries. So far, the hospital has already implemented part of the medical staff's plan, including constructing new buildings for the patients, improving service standards, training medical staff and building a parking lot. The hospital also manages a budget dedicated to buying new equipment to upgrade the standards of medical service. In addition, hospital staff have concentrated on medical ethics in a bid to reduce the number of complaints from the public about its services. Dr Aphone said one major difficulty is the management of the doctors' time, who are needed to not only treat patients, but also to train and teach at various institutions and healthcare centres around the country.
In addition, the hospital still has other problems that need to be solved, particularly the shortage of nurses needed to provide the daily services required at the upgraded facilities. Mahosot Hospital was the first hospital in Laos, established in 1910 by French medical doctors. It has 31 wards with 450 beds, and employs more 700 medical staff, all of whom are Lao nationals. Many have received training overseas.
Vientiane Times
August 31, 2012